There was a problem loading your book clubs. Please try again.
Join or create book clubs
Bring your club to Amazon Book Clubs, start a new book club and invite your friends to join, or find a club that's right for you for free.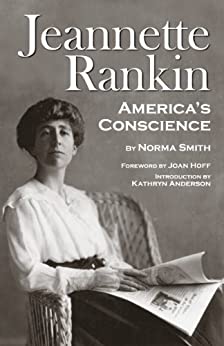 Jeannette Rankin: America's Conscience
Kindle Edition
---
Enter your mobile number or email address below and we'll send you a link to download the free Kindle App. Then you can start reading Kindle books on your smartphone, tablet, or computer - no Kindle device required.
Apple

Android

Windows Phone

Android
To get the free app, enter your mobile phone number.
---
Customers who bought this item also bought
This shopping feature will continue to load items when the Enter key is pressed. In order to navigate out of this carousel please use your heading shortcut key to navigate to the next or previous heading.
Editorial Reviews
From the Back Cover
Suffragist, social worker, first woman elected to the United States Congress, a lifelong peace activist, and a tireless advocate for political reform, Jeannette Rankin is often remembered as the woman who voted "No." Elected to Congress from Montana on the eve of the United States' entry into World War I, Rankin cast her first vote - the first vote cast in the House of Representatives by any woman - against the declaration of war against Germany. Reelected to Congress in 1940, she repeated her vote, becoming the only member of Congress to vote against the United States' involvement in World War II.Jeannette Rankin was a woman who lived her conscience, and she became America's conscience through her unflagging campaigns for children's protective legislation, women's rights, election reform, and most of all, peace. Her determined voice shines in this biography, written by her friend, Norma Smith, who paints a convincing portrait of a complicated activist based on interviews with Rankin in the 1960s. (6 x 9, 240 pages, b&w photos)

--This text refers to an out of print or unavailable edition of this title.
About the Author
Jeannette Rankin began sharing her life story with Norma Smith in 1963. Inspired by Rankin's unwavering crusade for social justice and peace, Smith (1913-2001) wrote this biography in the 1970's; tracing Rankin's history from girlhood to Jeannette's passing in 1973. --This text refers to an out of print or unavailable edition of this title.
---
Product details
ASIN : B00DCCOW7K
Publisher : Montana Historical Society Press (June 10, 2013)
Publication date : June 10, 2013
Language: : English
File size : 1665 KB
Text-to-Speech : Enabled
Screen Reader : Supported
Enhanced typesetting : Enabled
X-Ray : Not Enabled
Word Wise : Enabled
Print length : 237 pages
Lending : Enabled
Top reviews from the United States
There was a problem filtering reviews right now. Please try again later.
Reviewed in the United States on April 23, 2016
Verified Purchase
This is an amazing book about an incredible woman.
In perfect condition and great reading
One person found this helpful
Comment
Reviewed in the United States on March 2, 2018
Verified Purchase
Reviewed in the United States on May 7, 2013
Verified Purchase
Jeannette Rankin, America's Conscience should be a required read in any history class. Very information and I admire her very much for her dedication in such harsh times she was living in. She made a lot of scacrifices to make our world a better place to live in.
One person found this helpful
Comment
Reviewed in the United States on January 4, 2004
This book was composed by a friend of the subject some twenty years ago but not published till 2002. But it is not hagiographical even though the author, now deceased, knew Jeannette Rankin. Most people know that Rankin voted against war twice--even though she only served two terms in the House, having been elected in 1916 to her first term--the first woman elected to Congress--and then elected to her second term in 1940. So when Pearl Harbor was bombed she was the only person who voted against war--though a few days later she voted for war against Germany. She was somewhat eccentric and was active in the anti-war movement during the Vietnam era though not in full sync with the moving spirits in that endeavor. She lived on till she was almost 93, active and forceful till the end. While the book has no footnotes and is kind of amateurishly written it tells an interesting story, and gives a fuller picture of an amazing woman than most folks have had hitherto.
12 people found this helpful
Comment