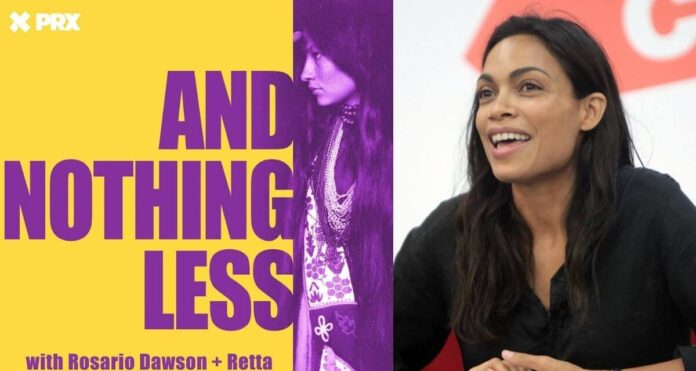 Rosario Dawson, American actress and activist tweets about the season finale of And Nothing Less Podcast Series. Rosario and Retta are Co-hosting "And Nothing Less: The Untold Stories of Women's Fight for the Vote". This podcast series is one of the two podcasts to honor the centennial of the ratification of the 19th Amendment and women's right to vote.
Universal News is now available on Telegram as well. You can subscribe to our Telegram Channel for latest news and updates.
The season finale will be about Zitkala-Sa of the Lakota, Rosario Dawson wrote on Instagram. Zitkala-Sa also is known as Gertrude Simmons Bonnin is one of the most influential Native-American activists of the 20th century.
Rosario Dawson about "And Nothing Less" Pod Season Finale
Rosario Dawson wrote Instagram "In the season finale of "And Nothing Less" Pod, we look at who was left out after the ratification of the 19th amendment. 1920 didn't mark the end of fighting for voting rights, and that's work that continues even to this day. You'll hear about Zitkala-Sa of the Lakota in this last episode of the show. She formed the National Council of American Indians in 1926 – yes, after the 19th amendment was ratified! She believed that Native Americans, as the original occupants of the land, needed to be represented in the current system of government, and she worked to unite tribes across the US to fight for the right to vote for all Native Americans."
Related News: Gal Gadot tweets on the 130th Birthday of Agatha Christie
On August 6, the day after the initial launch of the podcast, Rosario wrote on Instagram "I turn to history to make me feel less alone and to give me more context and perspective to where we are within a movement's history. When it comes to women's voting rights, that means going back over a century to follow the path of suffrage. 2020 is the 100th anniversary of the ratification of the 19th amendment, and it's as important as ever to have your voice be heard."
And Nothing Less is a production of the Women's Suffrage Centennial Commission, the National Park Service and PRX. The podcast is to commemorate 100 years of the 19th Amendment and women's constitutional rights.