Sep 30, 2010
GovBenefits.gov becomes Benefits.gov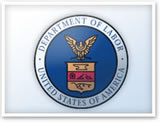 Benefits.gov provides enhanced search tools to navigate government programs
WASHINGTON
- The U.S. Department of Labor today announced that the former GovBenefits.gov website has been redesigned and rebranded to become Benefits.gov. Along with a new look, Benefits.gov provides enhanced site features to help citizens quickly navigate and locate government benefit and assistance programs that may improve their lives. This collaborative effort of 17 federal agencies maintains content on more than 1,000 government programs.
Benefits.gov's primary new feature is the "Benefit Finder," a confidential tool that enables individuals to answer questions about themselves and then instantly view a list of benefits they may be eligible to receive. If customers find benefits they may be interested in applying for, Benefits.gov offers the ability to add benefits from the results list to "Your Favorites," a further customized list of benefit results. Both lists can be printed or e-mailed to enable users to review their results at a later time.
Another enhanced feature of Benefits.gov is that the entire site is available in both English and Spanish.
"What was already a great site is now even better," said Edward Hugler, Department of Labor deputy assistant secretary for operations in the Office of Administration and Management. "Benefits.gov's user-friendly design and search tools will make it easier than ever for citizens to find the government assistance information they're looking for."
The Department of Labor is the managing partner for Benefits.gov and works with the following federal agencies to gather content for the site: the departments of Agriculture, Commerce, Education, Energy, Health and Human Services, Housing and Urban Development, Homeland Security, Interior, Justice, State, Transportation, Treasury and Veterans Affairs; the Office of Personnel Management; the Small Business Administration and the Social Security Administration.
The public is encouraged to visit and explore the new features on Benefits.gov. Visitors can keep up with the latest benefit-related information by subscribing to page updates or following Benefits.gov on Twitter at
http://www.twitter.com/BenefitsGOV
.