Summary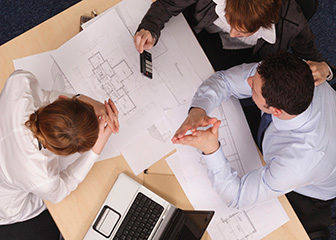 Quick Facts: Architects
$72,550 per year
$34.88 per hour
Bachelor's degree
None
Internship/residency
113,700
24% (Faster than average)
27,900
Architects plan and design buildings and other structures.
Architects spend most of their time in offices, where they consult with clients, develop reports and drawings, and work with other architects and engineers. However, architects often visit construction sites to review the progress of projects. Many work more than 50 hours per week.
There are three main steps in becoming a licensed architect: earning a professional degree in architecture, gaining work experience through an internship, and passing the Architect Registration Exam.
The median annual wage of architects was $72,550 in May 2010. Many firms pay tuition and fees toward continuing education requirements for their employees.
Employment of architects is projected to grow 24 percent from 2010 to 2020, faster than the average for all occupations. Current demographic trends will result in a greater need for architects. Those who distinguish themselves with their creativity should have the best job opportunities.
Compare the job duties, education, job growth, and pay of architects with similar occupations.
O*NET provides comprehensive information on key characteristics of workers and occupations.
Learn more about architects by contacting these additional resources.