Initiative to Reduce Avoidable Hospitalizations Among Nursing Facility Residents
This initiative is possible through the collaboration of the CMS Innovation Center and the CMS Medicare-Medicaid Coordination Office.
Recent Updates:
09/27 - Announced: 7 organizations participating in this Initiative.
06/01 - Application Guidance Document posted under "Additional Information" section below.
05/30 - Updated Frequently Asked Questions document posted under "Additional Information" section below.
 
Overview
This new effort aims to improve the quality of care for people residing in nursing facilities.
CMS will support organizations that will partner with nursing facilities to implement evidence-based interventions that both improve care and lower costs. The initiative is focused on long-stay nursing facility residents who are enrolled in the Medicare and Medicaid programs, with the goal of reducing avoidable inpatient hospitalizations. This initiative supports the Partnership for Patients' goal of reducing hospital readmission rates by 20% by the end of 2013.
Participating Sites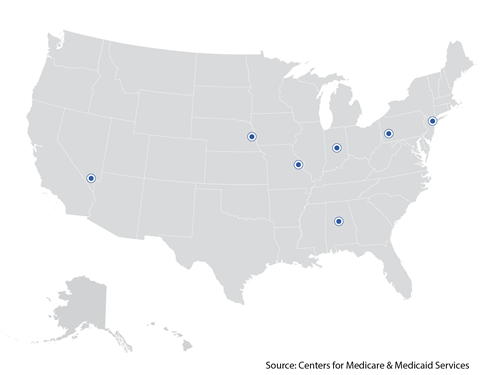 From a pool of applicants, 7 organizations were selected for this Initiative:
Alabama Quality Assurance Foundation – Alabama
Alegent Health – Nebraska
HealthInsight of Nevada – Nevada
Indiana University – Indiana
The Curators of the University of Missouri – Missouri
The Greater New York Hospital Foundation, Inc. – New York City
UPMC Community Provider Services - Pennsylvania
Background
Nursing facility residents often experience potentially avoidable inpatient hospitalizations. These hospitalizations are expensive, disruptive, and disorienting for frail elders and people with disabilities. Nursing facility residents are especially vulnerable to the risks that accompany hospital stays and transitions between nursing facilities and hospitals, including medication errors and hospital-acquired infections.
Many nursing facility residents are enrolled in both the Medicare and Medicaid programs (Medicare-Medicaid enrollees). CMS research on Medicare-Medicaid enrollees in nursing facilities found that approximately 45% of hospital admissions among those receiving either Medicare skilled nursing facility services or Medicaid nursing facility services could have been avoided, accounting for 314,000 potentially avoidable hospitalizations and $2.6 billion in Medicare expenditures in 2005.
Initiative Details
Through this initiative, CMS will partner with eligible, independent, non-nursing facility organizations (referred to as "enhanced care & coordination providers") to implement evidence-based interventions that reduce avoidable hospitalizations. Eligible organizations can include physician practices, care management organizations, and other entities. Both for-profit and not-for-profit organizations are eligible to apply.
The enhanced care & coordination providers will collaborate with States and nursing facilities, with each enhanced care & coordination provider implementing its intervention in at least 15 partnering nursing facilities.
Applicants will propose an intervention that meets the objectives of the initiative, which those selected will then implement. Interventions will be evaluated for their effectiveness in improving health outcomes and providing residents with a better care experience.
Applications for this initiative were due June 14, 2012 by 3:00 p.m.
Addition Information
Notice of Intent to Apply - this link has been deactivated. The deadline to submit a NOIA was May 7, 2012 at 3:00pm ET.
Applicant Contact Information Reference Document (PDF) - listing of organizations that have submitted a Notice of Intent to Apply (NOIA) and have approved their contact information being made publicly available
If you have additional questions on this Initiative, please e-mail us directly at NFInitiative2012@cms.hhs.gov. Programmatic questions submitted after May 31, 2012 are not guaranteed a response. For more information on this initiative, including archived information, visit the Medicare-Medicaid Coordination Office page.