More than Valentine's Day: Taking Care of Our Hearts
By Kathleen Sebelius, Secretary of Health and Human Services
Posted February 04, 2013
February is American Heart Month, which makes this a good time to talk about the ways the Affordable Care Act helps us take better care of our hearts.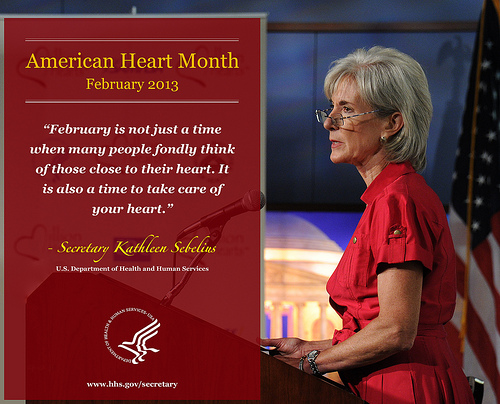 Right now, heart disease is the leading cause of death in the United States. Every year, it takes the lives of more than half a million Americans: These are our grandparents, our parents, our siblings, our friends, and our neighbors.  Although many people think of  heart disease as a man's problem, women can and do get heart disease. This epidemic kills more women than diabetes, Alzheimer's disease, and lung cancer combined. In the United States, a woman suffers a heart attack every 90 seconds.
The good news is that most of the risk factors for heart disease—including obesity, physical inactivity, high blood pressure, high cholesterol, and smoking—are preventable and controllable. Now, because of the health care law, millions of Americans with private plans can get life-saving preventive services like high blood pressure screening and help to quit smoking, without paying a penny out-of-pocket. And seniors and people with disabilities who have Medicare can now get recommended preventive services like obesity counseling and cholesterol screening free of charge.
The law also invests in programs like the Million Hearts initiative, which aims to prevent 1 million heart attacks and strokes over five years. And it invests in the Prevention and Public Health Fund, which helps fight the causes of chronic illnesses like heart disease by, among other things, controlling the obesity epidemic, tackling health disparities, and reducing tobacco use.
Combined with these efforts, having the security of quality, affordable health insurance is also vital in the fight against heart disease. In less than a year, it will be illegal for insurance companies to deny any American coverage because of a pre-existing condition, like heart disease.
And starting Oct. 1, 2013, uninsured and underinsured Americans will be able to shop for affordable health insurance through their state's Health Insurance Marketplace. The Marketplace will give Americans the ability to compare health insurance plans based on price, quality, benefits, and other important features. If you need health insurance or know someone who does, you can visit HealthCare.gov  to find insurance options and sign up for email and text updates that will help you get ready for the new Marketplace.
And this Valentine's Day, CardioSmart
—the American College of Cardiology's patient education initiative—is partnering with national health care institutions and academic medical centers to provide free heart health screenings and educational programs to women across the country.
February is not just a time when many people fondly think of those close to their heart. It is also a time to take care of your heart.
To learn more about American Heart Month and find out how you can participate:
Listen to the Podcast: Listen to your heart.